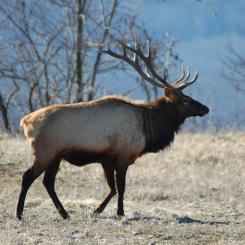 When Europeans first came to North America, there were an estimated 10 million elk. By 1900, habitat loss and market hunting had caused a plunge in the elk population to fewer than 100,000. Elk still existed in remote pockets of the American West but were completely gone in Tennessee and the rest of the Eastern United States.

In 1997, An elk restoration program began in the Eastern coalfields of Kentucky that now boasts an Elk Herd of over 10,000. Similar habitat was available in Tennessee near the Kentucky Elk Zone.  In the late 1990's, after the urging and support of RMEF members and other conservation organizations, the Tennessee Wildlife Resources Agency decided to start a program of their own.

On December 19, 2000, hundreds of onlookers witnessed the release of 50 elk in a state where they had been absent for 150 years! Since that snowy day in December, there have been 5 more releases adding 151 elk. The elk came from Elk Island National Park in Alberta, Canada where they are tested often for potential health problems and are considered to be one of the best sources for wild disease free elk.  Conservative estimates number the current elk herd at just under 400 animals while many believe the number may be closer to 450. The Tennessee Elk Zone consists of 670,000 acres chosen for the large percentage of public land, low percentage of agricultural crops, and habitat suitable for elk. Some of the habitat consists of reclaimed surface coal mines that include grasslands considered ideal elk habitat. The elk zone is believed to be capable of sustaining a herd of about 2000 animals. It was hoped that this number could be attainable in about 30 years, but the rapid growth of the elk herd at the Hatfield Knob Viewing Area suggests that number may be reached much sooner.

The Tennessee Valley Chapter of the RMEF believes that hunting is conservation.

Without leadership, funding, and functional management by hunters, conservation in America could not exist.

The Tennessee Wildlife Resources Agency began

the Elk Restoration program with the goal of growing an elk herd that would include hunting as an integral part of it's management.  In October of 2009, elk hunting came back to Tennessee after nearly 150 years. Five bulls were taken the first year and three were taken in 2010. For more information about elk hunting in Tennessee, go to
www.tennessee.gov/twra