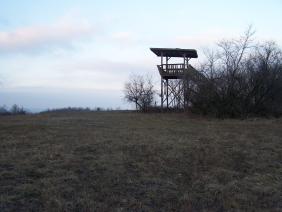 Hatfield Knob Elk Viewing Area

It has been ten years since the first elk release and we still hear people say, "I didn't know that there are elk in Tennessee". After explaining the restoration program, most people are also surprised to learn that there is a great place to go and view wild elk right here in Tennessee.

The Hatfield Knob Elk Viewing area began as a 2-1/2 acre food plot of oats and Austrian winter peas.

It didn't take long for the eleven elk released in the area in 2003 to find this food source and eat it. RMEF Life Member Terry Lewis and his wife Jane own property nearby and realized that to keep the elk in the area, they were going to need a lot more food. Terry and Jane are good examples of why Tennessee is known as the Volunteer State. With the approval of TWRA, they cleared and planted 40 acres of food plots that 35-40 elk now utilize daily.

Terry and Jane designed and purchased building materials for a tower to provide better viewing of the resident elk herd. On August 27, 2005, volunteers from the Campbell Outdoor Recreation Association, the RMEF, the Tennessee Wildlife Federation, and TWRA personnel from Area 41 helped Terry and Jane erect The Hatfield Knob Elk Viewing Tower. Terry and Jane have continued to maintain and replant the viewing area since its beginning, often with little help from anyone. The people of Tennessee should be grateful to the Lewis's for their dedication and sacrifice. There we will be several improvements made to the viewing area over the next few years that will provide opportunities for volunteers to "get their hands dirty". Watch for future project dates on the Events page.

Directions to Hatfield Knob

Take I-75 north from Knoxville, approximately 30 miles to Exit 134, Caryville/Jacksboro, Turn Right onto Hwy 25W and proceed approximately 9 miles to downtown La Follette. Turn left on Hwy 25W North and travel approximately 7 miles to the top of Peabody Mountain. As the 3 lane ends at the top of the mountain, turn left at the gate onto a one lane gravel road. There will be an elk viewing sign on the right side of the gate. Travel approximately 3 miles to a fork in the road. Bear right and continue another 1.5 miles to parking area.

Walk around the closed gate and follow the 1/2 mile gravel trail to the tower.

Please be considerate of the elk and other visitors by silencing your cell phones and talking softly when on the trail or at the tower.

Please do not bring pets. The best time of day to visit is early in the morning or late in the evening.